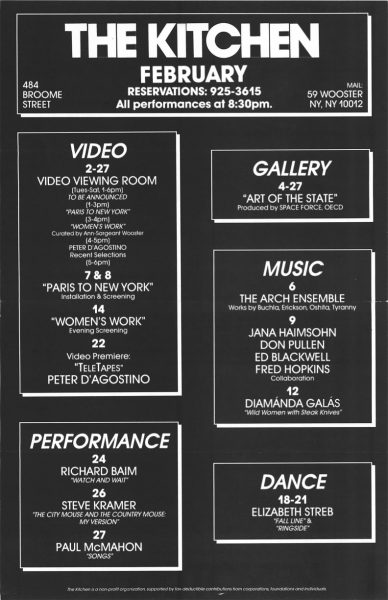 Women's Work: A National Collection of Video by Women was an exhibition in The Kitchen's Video Viewing Room that took place from February 2–27, 1982. Featuring video work by 26 artists, the exhibition was guest curated by Ann-Sargent Wooster. Women's Work was one of sixteen exhibitions organized by medium and theme under the overarching title Views by Women Artists. The exhibitions were sponsored by The Women's Caucus for Arts, and artists around the US were invited to apply via an open call.
Women's Work showed videos by: Ida Applebroog, Judith Barry, Dara Birnbaum, Barbara Buckner, Theresa Hak Kyung Cha, Wendy Chambers, Constance Coleman, Cecilia Condig, Marge Dean, Martha Gever, Joan Giummo, Carol Goss, Renee Jensen, Kathryn Kanehiro, Shigeko Kubota, Ardele Lister, Mary Lucier, Micki McGee, Hilary Radner, Martha Rosler, Norie Sato, Jill Scott, Alicia Starr, Melanie Sherwood, Barbara Sykes, and Anita Thacher.
A selection of works were highlighted at an evening screening on February 14, 1982, including "work not previously shown in New York, including two multi-channel pieces—Mary Lucier's Denman's Col (Geometry) and Theresa Hak Kyung Cha's Passages/Paysages."