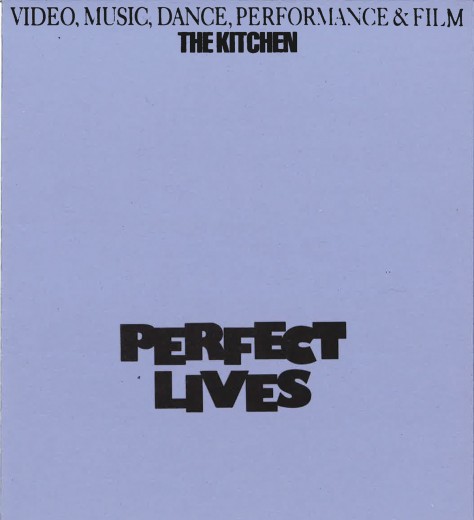 Perfect Lives is an opera of seven half-hour episodes written by Robert Ashley, commissioned in 1978 by The Kitchen for television. Ashley initially staged live performances of Perfect Lives across Europe and America in collaboration with keyboardist "Blue" Gene Tyranny, with one chamber version at The Kitchen in early 1978. The performances later grew to include vocalists Jill Kroesen and David Tan Tiegham, with orchestral tapes produced by Peter Gordon. In 1982, Channel Four Television in Great Britain obtained a pre-sale, paving the way for a visualized version of the operatic score. The television opera premiered in 1984 on Channel Four and has since been broadcast across Europe and the United States. 
Performed in non-linear time. Perfect Lives follows two musicians, R (Robert Ashley) and Buddy ("Blue" Gene Tyranny), who have arrived in a fictional town in the Midwest to entertain at the Perfect Lives Lounge. The duo meet two locals, D (David Van Tieghem) and Isolde (Jill Kroesen), and the group sets off to commit the perfect crime: to remove a sizable amount of money from The Bank for one day and let the world know it was missing. Described by Ashley as "a comic opera about reincarnation," the narrative is a metaphor for the rebirth of the human soul.
The Kitchen screened Perfect Lives upon its completion in fall 1983.