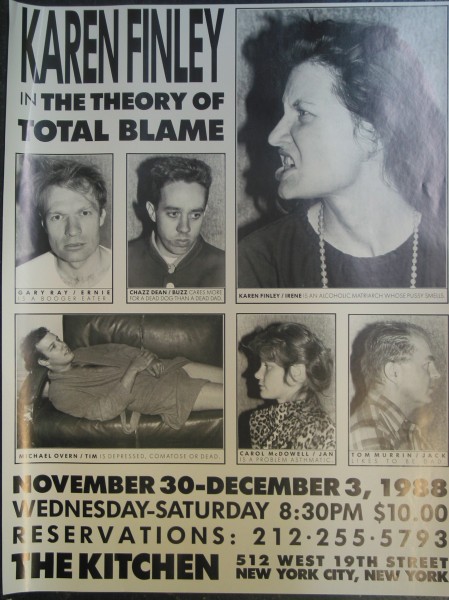 The Theory of Total Blame was Karen Finley's first full-length play and premiered at The Kitchen on November 30th, 1988. The performance ran approximately 70 minutes and was presented in a style Finley refers to as "impulse theater," which is based on the view that performers should sometimes allow their impulsive actions to supersede the script.
The Theory of Total Blame examines repression, family dynamics, and the impulses behind family violence. In the performance, a family comes together for the holidays and brings up memories and accusations of abuse, reverting to the behaviors they exhibited as children. Irene is the matriarch and Jack is her husband, while Jan, Buzz, Ernie, and Tim are her adult children. As stated on the program, the order of events in the play is as follows, with each portion focusing on the experiences of a particular character:
"Family Reunion" Re: Jack's Religious Experience

"Confessions of a Matriarch"

"No One Listens" Re: Buzz's Religious Experience

"Asthma Attack" Re: Jan's Religious Experience

"Unloved" Re: Ernie's Religious Experience

"Who's to Blame" Re: Irene's Religious Experience
The cast featured Karen Finley as Irene, Carol McDowell as Jan, Tom Murrin as Jack, Chazz Dean as Buzz, Gary Ray as Ernie, and Michael Overn as Tim. Production support included Lori E. Seid as stage manager, management and creative development by Michael Overn, and lighting design by Carol McDowell.