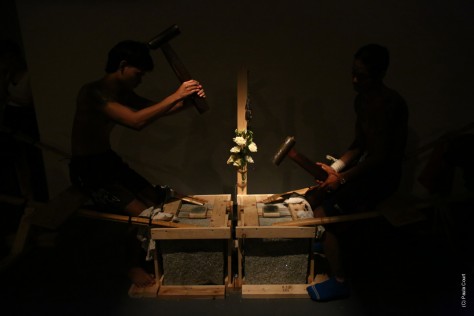 In 2014, artist Danh Vō collaborated with Xiu Xiu (Jamie Stewart, Shayna Dunkelman, and Ches Smith) to produce Metal, a gallery exhibition at The Kitchen. Metal was anchored by daily performances during which Xiu Xiu's three members played along with a bass line created by two Thai gold pounders (a father and his son), whom Vō invited from Bangkok to beat nuggets into gold leaf. The musicians were active for three hours, beating a makeshift gamelan, throwing cymbals like discuses and shooting candy at gongs with slingshots, while the metalworkers pounded steadily away.
In addition to the performance, Danh Vō including lyrics written by his father for Xiu Xiu's 2004 homoerotic ballad "Fabulous Muscles." The lyrics were written on the gallery walls in calligraphic letters by Vo's father himself, providing a provocative backdrop for the action:
"Fabulous muscles, take my breath away / Cremate me after you cum on my lips."