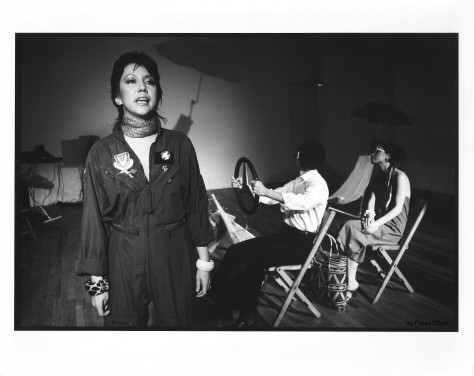 Jessica Hagedorn's Tenement Lover: (no palm trees/ in new york city...) and Ntozake Shange's Mouths: A Daughter's Geography, both directed by Thulani Davis, were presented jointly during two evenings of performances.
Based on Hagedorn's short story "The Blossoming of Bong Bong," Tenement Lover treated subjects of isolation, cultural crisis, and socio-political violence and oppression. Narrated through Hagedorn's monologue, TV clips, songs from The Gangster Choir, and letters read aloud, Tenement Lover tells the story of Bong Bong, a Filipino man come to New York City to earn money as a chauffeur.
Also treating the subject of connection and oppression, Shange's Mouths took the form of a choreopoem focusing on the relationship between characters acted and danced by Shange herself and Richard Lawson.